Alienware punches out four-GPU CrossFireX gaming PC
Alienware has marked AMD's release of CrossFire X-compatible Catalyst drivers with the launch of a four-graphics chip gaming PC. It's even named the beast after the multi-GPU technology.
Dubbed the Area-51 ALX CrossFireX, Alienware's machine comes with two ATI Radeon HD 3870 X2 graphics cards, each of which has a pair of 3870 GPUs on board and 1GB of GDDR 3 video memory.
The CPU's a 3GHz quad-core 45nm 'Penryn' Core 2 Extreme overclocked to 4GHz - liquid cooling keeps the chip from boiling over - and sitting on a X38 chipset's 1333MHz frontside bus. The system's 2GB of DDR 3 memory is clocked to 1333MHz too.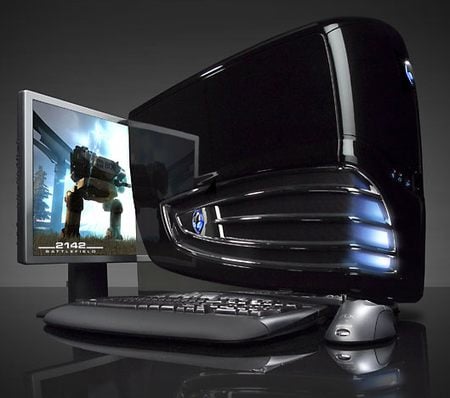 Alienware's Area-51 ALX CrossFireX: gaming monster
Alienware's offering a choice of hard drives and optical units to go with the machine. Prices start at £3257, but that's with a single 3870 X2 graphics card - going for the four-GPU option ups the price to £3556.72.
Maxing out the spec with a pair of 64GB solid-state drives, a 6x Blu-ray Disc drive, a regular DVD burner, an Ageia PhysX card, a Creative X-Fi gaming soundcard and more takes the price to a whopping £4993.75.
And that's without speakers and a screen.
Alienware's taking orders now, but the Area-51 ALX CrossFireX isn't expected to ship until 24 March.
Source:
http://www.reghardware.co.uk/2008/03..._cfx_launched/